Teachers and workshop descriptions
Emily Bowman
Emily Bowman is a dancer and choreographer based between Melbourne and Western Australia. Her practice is grounded in real-time choreography and contact improvisation (CI). She is interested in weight, repetition and durational work. Emily has travelled to India, Canada, Europe, the US and across Australia for CI teaching and research/performance projects. She graduated with a Bachelor of Arts in Dance, from the Western Australian Academy of Performing Arts in 2013.

Emily has been an Australian Council peer assessor and is an organiser of the Australian Contact Improvisation Convergence. She has trained with CI teachers such as Nancy Stark Smith, Ray Chung, Andrew Harwood, Mark Young, Jacob and Joey Lehrer, David Corbet and Martin Hughes. Emily approaches CI as a physical dance technique in the traditional sense, with the belief that the learning is in the dancing.
---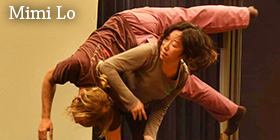 Mimi Lo
Mimi Lo is the Artistic Director of DanceAbility Hong Kong. She is certified teacher of DanceAbility International and ContaKids International and a graduate of the Hong Kong Academy for Performing Arts, majoring in choreography and dance directing. Mimi's current focus is contact improvisation and Argentine tango. In the US, she participated in Nancy Stark Smith's January Workshop + Long Dance. Mimi organizes contact jams and teaches contact improvisation mainly in Hong Kong and Guangzhou.
Somatics and Contact Improvisation
How do we prepare our bodies for dance? Through somatic practice, we perceive ourselves from within through sensation. By getting to know how different body parts work together and exploring our relationship with gravity, not only will our sensitivity be enhanced, a relaxed body with newfound coordination will also be found. When we understand our own habits or limitations, we can dance more consciously in a relaxed state, opening new potentials and using our bodies more efficiently for weight transfer, support and balance in our dance.
---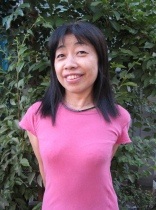 Hiroko Takahashi
Hiroko graduated from Nippon Sport Science University and was formerly with the Keiko Takeya Contemporary Dance Company. She begin her journey in contact improvisation in 1997 while studing contemporary dance in France, and has since gone on to study the dance form with teachers such as Nancy Stark Smith, Ray Chung, Nina Martin, and Kirstie Simson. She co-founded Spiral (now known as the Contact Improvisation Nippon Network) in 2003 the Tokyo Contact Impro Festival in 2007. Hiroko is also a Yamuna Body Rolling Practitioner.
In this workshop, we will look for a relaxed state where we are in tune with our own centers and are connected from inside to outside. Starting with the fundamentals such as being present, surrendering to the floor and sharing weight, we will then develop improvisational material via contact. With sensitivity and openness to the moment, let us take off to the sky and discover pathways of unlimited possibilities!
---
Xiaochu Yu
Ming-chu Yu, aka Xiaochu, is a dancer, performer, and improvisation teacher in Taiwan. She has been invited to perform and teach improvisation in numerous festivals in Japan, Korea, China (Beijing and Shanghai), and Malaysia. She is a member of Ku & Dancers.
Touching, listening, and moving
This workshop will include physical exercises, listening practice, improvisation scores, observation and discussion. By connecting and partnering with others, we can deepen our awareness through movement.