Teachers
Hamzah Mas
Hamzah Mas is an avid movement practitioner, facilitator and performer interested in the profound experience of the human body in conversation within and with others. His pursuit of freeform movement and dance began through his encounters with ecstatic dance and "movement culture" inspired by the Ido Portal method, eventually finding a deep love for the practice of Contact Improvisation, drawn in by the artform's deeply connected and curious approach to movement.

He is currently involved in the Emerging Artist Programme "Activate" at Newcastle-based Catapult Dance Choreographic Hub, with experience performing as a physical theatre and movement practitioner in a diverse range of shows from cabaret to contemporary dance. Beyond his movement pursuits, Hamzah enjoys deep dives into his music practice as well as his ongoing passion for holistic living as a healthcare professional, physical trainer and yoga teacher.
---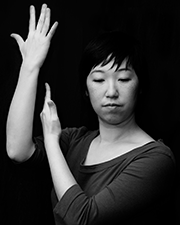 Mimi Lo
Mimi Lo @ MimiLOPADF (Mimi Lo Performing Arts Development Foundation) teaches contact improvisation at The Hong Kong Academy for Performing Arts. She is a graduate of The Hong Kong Academy for Performing Arts modern dance program, majoring in choreography and dance diirecting. Mimi followed Nancy Stark Smith in 2016 and 2018 to practice CI at EarthDance in the US and undertook the Long Dance Research project at The Dragon's Egg Studio, also in the US. She completed her DanceAbility® Teacher Training in Helsinki, Finland and her ContaKids Teacher training in Arezzo, Italy. Her current focuses are on contact improvisation and somatic dance and movement.
---
Yu Yen-Fang
Yu Yen-Fang is a choreographer, performer, improviser, and dance instructor from Taiwan. Since 2001, Yu has choreographed, collaborated and performed with companies and individual performing artists in Asia, the U.S. and Europe. In 2013, she initiated Project Muo-Muo with a collective of young, emerging artists from multi-disciplinary backgrounds to develop an artistic voice that is poetic, specific, and accessible. In recent years, Yu has returned to focus on her development as an individual artist. Since then, she has been involved in international creative projects in Europe and the U.S. Yu teaches improvisation, contact improvisation and choreography to professionals and non- professionals, including Muo-Muo workshops for people of all levels and all ages since 2018 and at Taipei National University of the Arts and Taipei City University for dance majors and MFA students. She has also been hosting the Global Underscore Practice in Taipei every year since 2018.