frequently asked questions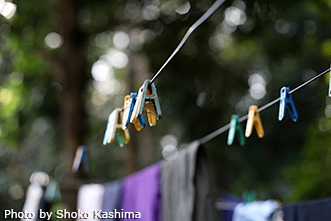 What do I need to bring along with me to the festival?
Water bottle, mosquito repellent, swimming attire (if you wish to use the swimming pool) and if necessary, your own mosquito net for sleeping. You might also want to think about getting earplugs (since you will be sharing rooms with others) and kneepads for dancing.
Are the studio & rooms air-conditioned?
No, but the dance space and rooms are equipped with fans.
What devices or equipments are available for use at the houses?
Fridges, stoves, bowls, plates, cups, and cutlery. A microwave oven, a toaster oven, a rice cooker, a coffeemaker, an electric kettle, and water filters (some of these might not be available if the kitchen is in use for meal prep).
What else is provided?
Towels, bed sheets, bath gel, shampoo, toilet paper, mosquito coils.
Are there laundry facilities?
There will be some clotheslines available. For laundry, we'll make laundry runs to the nearby laundromat (about a 10-minute drive away). We will also provide laundry buckets and detergent for handwashing.
How will beds be allocated?
Beds will be allocated on a first-come first-served basis.
Is there Internet connectivity?
There is no Wi-Fi, but there is Internet connectivity via cell phones. We suggest you purchase a prepaid SIM card that offers mobile broadband when you arrive in Kuala Lumpur or at the airport.
Page last updated March 27, 2023